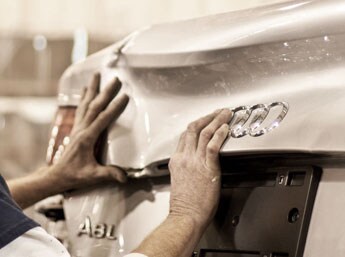 Bob Moore Collision Center is the Only Place to Go for Aluminum Body Repairs near Oklahoma City, Norman, Yukon OK and Edmond

It's no secret that aluminum is being used to produce a growing number of vehicles these days. In fact, aluminum has played a significant role in the evolution of vehicles as it improves towing capacity, fuel economy, and overall performance.
Needless to say, repairing an aluminum vehicle is an entirely different process than the one used to repair steel.  As a lightweight metal, aluminum not only reacts to heat differently but it doesn't have the same metal-memory as steel. Simply put, aluminum can't be simply be reshaped to its original state like steel. It requires the expertise and precision of a certified technician to restore your vehicle to its factory finish.
At Bob Moore Collision Center, our seasoned technicians employ cutting-edge aluminum welding and dent pulling equipment to properly repair an aluminum panel. Don't trust your vehicle to just any body shop when we know all of the intricacies of aluminum body repair. We'll get the job done efficiently and affordably to get your car back on the road.
Get started on repairs by scheduling a service appointment online and bringing your car into our Collision Center, located in Edmunds, OK for a free estimate.